When
Thursday, June 15th from 6pm-8pm BST
Format
There'll be a "fireside" style chat with the author plus ample scope for discussion and debate.
Why you should attend....
This very special TTF event is being run with, for and on behalf of Andy Verity, the award-winning Economics Correspondent for BBC News, covering finance and business on BBC Radio and TV, as well as reporting for Panorama, BBC Newsnight and BBC Radio 4's investigative strand, File on Four.
To help explain its significance, please watch this short clip of David Davis MP speaking and note in particular what's said regarding the Treasury Select Committee.
Andy new book:
"Rigged: The Incredible True Story of the Whistleblowers Jailed after Exposing the Rotten Heart of the Financial System"
…is packed with truly shocking revelations that will be of enormous interest to those of us that want the financial sector and the state agencies that interact with it to behave with integrity. 
Of the many supportive comments the book has already attracted, perhaps Jeremy Paxman's is the most apt: 
"If you've ever suspected the banking system of operating in someone else's interest…you're right."
There's some media coverage triggered by what was said in Parliament on Thursday and the enormous interest in the underlying cover-up here, here, here and here.
TTF believes that Andy's book proves beyond any reasonable doubt that a culture of collusion and cover-up has existed at the very top of the UK financial system and the establishment that interacts with it.
It's time to end the #cover-up.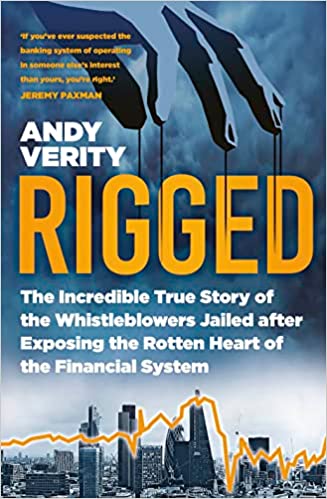 Rigged exposes a cover-up at the highest level on both sides of the Atlantic, upending the official story of the biggest scandal since the global financial crisis. It picks up where The Big Short leaves off, as the dark clouds of the financial crisis gather. Banks' health is judged by an interest rate called Libor (the London Interbank Offered Rate). The higher the Libor, the worse off the bank; too high and it's goodnight Vienna. Libor is heading skywards. To save themselves from collapse, nationalisation and loss of bonuses, banks instruct traders to manipulate Libor down – a criminal practice known as lowballing. Outraged, traders turn whistleblowers, alerting the authorities.
As Rigged reveals, their instructions come first from top bosses – then from central banks and governments. But when the scandal explodes into the news, prosecutors allow banks to cover up the evidence pointing to the top. Instead, they accuse 37 traders of another kind of interest rate 'rigging' that no-one had seen as a crime. In nine trials from 2015 to 2019, nineteen are convicted and sentenced. Rigged exclusively shows why all the defendants are innocent, and how any real culprits go unpunished.
How could this happen? Turns out, it's not just the market that's rigged.
It's the entire system.