Fight to fix fraud: the legacy of HBOS Reading
by Alex Varley-Winter, TTF's Head of Media Relations & Investigative Reporting
Police Crime Commissioner Anthony Stansfeld gave a swan song at a Transparency Task Force Symposium last week. He is retiring in three months' time.
Standing up for whistleblowers
Victims of the HBOS Reading fraud, who were present, felt that they 'cannot afford' to lose Stansfeld's voice. He was often in the course of his career the only person levelling with bank chairmen and Treasury ministers, brandishing whistleblower Sally Masterton's report on the scandal (part 1, part 2).
Stansfeld said the bank's internal audit and risk had authorised Masterton's report in the early 2010s – before 'promptly sacking' her when they realised what she had uncovered.
His provincial police force, Thames Valley, later acted on the HBOS Reading case. In so doing it was the only police force to act on alleged crimes against consumers in the wake of the financial crash of '08.
TTF's founder Andy Agathangelou thanked him for 'speaking truth to power': "if it weren't for you and other people like you doing what you're doing…  the status quo would just remain the same. It's obvious that the vested interests are that strong," he said.
Breaking down an '£850 million' fraud
Stansfeld reflects now that the HBOS Reading fraud was worth 'probably around about £850million' – with half impacting consumers and the rest the bank itself. His police force, Thames Valley, eventually prosecuted £245m of the fraud. "However, there was a considerable downside to doing that. … The compensation to a huge number of people whose cases were not actually directly brought up in court, were not settled, and that is still going on," he says.
He still holds quite a scathing opinion of the bank: "Lloyds boasts about having paid out £100 million in compensation. Well, it was an odd case, it was a two way case, the bank was actually being defrauded at the same time… But that still leaves, that's about £300 million in compensation that hasn't been paid to victims".
Naughties' crime saga
Would the HBOS Reading fraud have been stopped, if watchdogs, law enforcement and indeed the bank itself had smelled the coffee in the 00's?
Alleged victims were stonewalled for years before Masterton and Stansfeld started dissecting the crime scene.  Investigative reporter Ian Fraser  blogged about HBOS Reading a decade ago as 'the most egregious financial scandal I've come across in 20 years as a business and financial journalist.'
It's worth revisiting what Fraser wrote at the time. Victims had, in the 00's, been shunted in a phobic roundabout between the bank and the police.
In that same entry of 2010, Fraser summed up five years' of inaction already:
"Directors of HBOS customers whose life's work was snuffed out and snaffled as a result of the alleged fraud have, on countless occasions since 2006, complained to the boards of HBOS and Lloyds Banking Group about this scandal
"Yet they have repeatedly been given the brush off. When one made a formal written complaint to HBOS's entire board in August and September 2007, they didn't even get the courtesy of a response. Instead they received a letter from the law firm Denton Wilde Sapte, suggesting they should take their "allegations" to the police or their local fraud squad.
"When the directors did so, the Cambridge fraud squad told them it would only investigate the matter if HBOS sought an investigation itself. The bank declined to do so."
As with so many financial scandals it turned out to be a harsh cost-benefit analysis for the police. Stansfeld observed last week: "The one lesson that came out of the HBOS case was it is simply too expensive to take on a major bank, which has unlimitedly deep pockets".
Stansfield's Wish-List
Stansfeld said that in his view there are 'a number of things we can do to start sorting this out':
The Government needs to 'pay police back' for fraud prosecutions
Stansfeld said "half the problem that I mentioned before is we simply don't have the money to take on major fraud at the moment. But that shouldn't be difficult to finance. It should be done largely through the fines that you raise through carrying out investigations. I believe it would pay for itself."
He expands: "Over the HBOS affair Lloyds was fined sixty million pounds. And for some extraordinary reason the FCA [Financial Conduct Authority] then let them off fifteen million pounds for 'good behaviour'. Well, I wouldn't let them off of penny! I'd put a nought on the sixty million."
However: "That forty-five million pounds all reverted straight to the Treasury, not a penny it came back to Thames Valley police for conducting the case, in spite of me actually asking the Chancellor [then Philip Hammond], writing to him directly and saying 'could you pay us back?'
"That 45 million if it had gone into fraud cases would have made a huge difference across the country."
Fraud investigation hubs need accountants
"The first thing is we need to set up proper Fraud Investigation hubs at a regional level," Stansfeld said. "Currently we have … counterterrorism and serious organised crime… there should be a third arm, it should be a fraud investigation.
"It won't need many police officers. But it does need proper trained accountants and people who understand what they're talking about. It's no good expecting police officers who are not trained accountants really to investigate fraud. It's very difficult for them."
The Government needs to have a will to act
Stansfeld said: "We need the government and the establishment to actually recognise fraud is a huge drain on the economy. If you steal a million pounds through the front door of a building, you'll find the police are all over it. Steal through fraud a £billion and it's absolutely totally ignored at the moment, there's no investigation."
Later, he alleged that Treasury Ministers 'go native' and refuse to act on this issue as soon as they reach office. More on that below.
Watchdogs need clear lines of responsibility
"We need clear lines of responsibility between the regulatory authorities. No more passing the buck between each other, which goes on the whole time.
"I mean, just look at the National Crime agency and the Financial Conduct Authority, surely the clue is in the name. National Crime Agency should be dealing with crime. And if fraud involves crime, which it does, and forged signatures and documents, then the NCA should be taking it on.
"If it's a conduct issue, then the Financial Conduct Authority should be dealing with it. But at the moment, neither seems to. When did either them last prosecute a major fraud? Or indeed the SFO [Serious Fraud Office] for that matter successfully?"
The NECC is 'far too small'
"We have a national economic crime centre within the NCA. But it has never taken on a fraud. It's far too small and doesn't have the investigatory capability to do that. It's a start. But it needs to be hugely larger, and it needs the money behind it. Why is the City of London responsible for fraud? When did the City of London Police last prosecute a fraud – a major fraud against a bank or something? They're the ones that are meant to be doing it, not Thames Valley police, a good old provincial Police Force down in the countryside, albeit a large one.
"The SFO again, I think is far too small actually to take on … these fairly large cases, I think it should be combined into the National Crime agency in a proper division."
A complaint against Stansfeld
The only criticism we hear of Anthony Stansfeld seems to be that he wouldn't mind his own business. KPMG and DLA Piper complained to Thames Valley police that he had been acting 'outside of his remit' in looking into a civil dispute that they were involved in, which is not in Thames Valley.
The complaints panel did not accept Stansfeld's defence  that he was the PCC association's portfolio holder for fraud and cybercrime. They passed the complaint to the national police watchdog the IOPC to look into. You can read more about that in the Reading Chronicle. Stansfeld is not suspended though, and will continue to act as PCC for Thames Valley until the result of PCC elections come in May.
We need to talk about Glen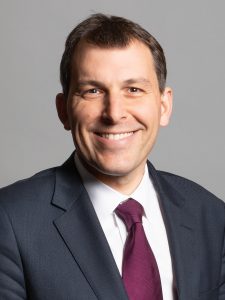 Stansfeld concluded our Q&A last week by recalling a 'flaming row' he had had with John Glen, Economic Secretary to the Treasury. He lamented the fact that too many Ministers 'go native' and bow to the City once they're on the front bench.
Standing together
At the point when Stansfeld says he confronted Glen, at least five parliamentary debates showed that all seven political parties agreed that  'something' needed to be done against large-scale fraud in the UK. After years of Brexit divisions, such a united front between backbenchers of all parties, on any issue, appears remarkable.
And yet-
Serving the City
 The roadblock to action, by Stansfeld's account, took the form of John Glen holding an immobile position for the Treasury.
"I have to say it was the only time I've really had a flaming row with a government minister" Stansfeld recalls, "Because I felt I was just being stopped, and there was absolutely no interest whatsoever from the Treasury in doing anything about this".
"Ministers 'go native' is the trouble" he concludes.  "I was looking for John Glen to get up at one of these debates and say 'Yes, I think you are really onto something. And I will get a proper judicial governance or commission to look into this.' But nothing is ever done like that, and I think we have a serious problem there; I think we have a serious problem there within the Treasury and within the establishment. I think all we can do is to try and get over this."
Whether it comes to toothless public inquiries or a barricade against red flags, TTF has heard other complaints by whistleblowers and alleged fraud victims, who believe that John Glen is showing a City-bias. Here's just one example:
Nought Income Fund
Mark Bishop is part of the Connaught Action Group, which represents victims of one of the biggest investment scandals of the last decade – the Connaught Income Fund.
As with the LCF scandal, City regulator the Financial Conduct Authority failed to act on red flags about Connaught for years. Bishop sums up what happened to victims: "What was supposed to be a low-risk bridging loan fund had actually been engaging in unregulated development finance, including loans to connected parties, bankrupts, at least one convicted criminal and a number of connected parties, often at increasingly unrealistic valuations. In essence, it [Connaught] was a vehicle for laundering money,"
What this meant in practise was this: "Investors who had signed up to a 'guaranteed' annual income of a little over eight percent, with the right to withdraw their money at a month's notice, were in fact largely starved of both capital and liquidity for six years"
Bishop argues: "Even then … because interest should have been compounding on the outstanding sum at more than eight percent per annum throughout that period, the sums received are less than half that owed."
"In December the FCA issued a public statement accepting the findings of Raj Parker's Independent Review, which found that regulation in the Connaught case was neither effective nor appropriate, but falsely claimed investors had already been fully compensated. I've been in correspondence with John Glen since then but he consistently refuses to meet with me or to accept the facts of the case." He "comes across as a cheerleader for the City and its lapdog regulator, not an advocate for consumer interests," Bishop said.
Press Timeline of relevant articles:
06 Feb 2021 – Fraud victims suffer enough – guarantee will help innocent overcome shame of scamming by Daniel Jones for the Sun
05 Feb 2021 – Leader: The FCA's leaders need to step up when things go wrong by Justin Cash for MoneyMarketing
05 Feb 2021 – U.S. Consumer watchdog sees surge in Robinhood complaints, some clients claim they can't leave the app by Kate Rooney & Yasmin Khorram for CNBC
02 Feb 2021 – SMCR rules come back to bite FCA in mini-bond probe 'rules around senior managers being held responsible for their actions have come back to bite the regulator', by Daniela Esnerova for MoneyMarketing
02 Feb 2021 – Regulation must deliver transparency and protection for Buy Now Pay Later consumers by Alex Marsh for City A.M.
02 Feb 2021 – Bank chief Bailey 'should be censured' for failings by James Hurley for the Times
02 Feb 2021 – FCA criticised for trying to omit names from LCF report by Rachel Mortimer for FT Adviser
02 Feb 2021 – Poll: Should FCA executives bear personal responsibility for the London Capital and Finance fallout? by MoneyMarketing
01 Feb 2021 – Investment funds flouting new transparency rules by Patrick Hosking for the Times
01 Feb 2021 – MPs launch full inquiry into London Capital & Finance scandal with chairman declaring it will be "thorough and clear" by Jim Armitage for the Evening Standard
30 Jan 2021 – Analysis: Robinhood and Reddit protected from lawsuits by user agreement, Congress by Tom Hals for Reuters
29 Jan 2021 – The Financial Services Bill doesn't provide the tough regulation we need by Professor Prem Sikka for Left Foot Forward
25 Jan 2021 – FCA urges clients of collapsed British Steel firm to consider claims by Sonia Rach for MoneyMarketing
22 Jan 2021 – HSBC chiefs to face MPs' questions over Hong Kong protesters' frozen accounts by Poppy Wood for City AM
21 Jan 2021 – MPs call on FCA to 'hold bad advisers to account' by Laura Purkess for CityWire
21 Jan 2021 – FCA told it lacks vision to tackle consumer issues by Amy Austin for FT Adviser
20 Jan 2021 – Mortgage Prisoner amendments blocked by Treasury, by Suleman Baig for Quadrin Group
18 Jan 2021 – Former Hong Kong lawmaker rejects HSBC's explanation over frozen accounts by Reuters
18 Jan 2021 – Supreme Court Rejects Appeal to Overturn UK's First Unexplained Wealth Order by National Law Review
18 Jan 2021 – British Virgin Islands' governor launches inquiry into alleged corruption by Patrick Wintour for the Guardian
18 Jan 2021 – What we learned from a bumper FCA data dump by Justin Cash for MoneyMarketing
18 Jan 2021 – Wall Street fears bubble from Biden stimulus as retail investing booms by Katherine Greifeld, Claire Ballentine and Vildana Hajric for Independent.ie
17 Jan 2021 – Bobby Kennedy was right: GDP is a poor measure of a nation's health by Larry Elliott for the Guardian
15 Jan 2021 –  Mortgage prisoners accuse Treasury of working against them as wider FCA remit blocked by Owain Thomas for Mortgage Solutions
14 Jan 2021 – MP Vows To Keep Pushing Tougher Economic Crime Law by Richard Crump for Law360
13 Jan 2021 – Mortgage prisoner finance bill amendments struck down by Gary Adams for Mortgage Strategy
12 Jan  2021 – Hong Kong families with money trapped in closed law firm's frozen bank accounts turn to government for low-interest loans by Phila Siu for South China Morning Post
12 Jan 2021 – Bitcoin: be prepared to lose all your money, FCA warns consumers by Kalyeena Makortoff  for the Guardian
11 Jan 2021 – Insolvency firms put under investigation after scandals, by Louisa Clarence-Smith for the Times
07 Jan 2021 – Regulators and police say Covid lockdowns have driven up online pension scams and demand regulation of Google, Facebook and others by Jim Armitage for the Evening Standard
06 Jan 2021 – Why UK savers could fall through the cracks in Brexit regulation from the FCA by Jim Armitage for the Evening Standard
04 Jan 2021 – Bank of England fails to publish officials' expenses by Alex Ralph for the Times
03 Jan 2021 – Five years on and still no answers over HBOS affair by Jill Treanor and Liam Kelly for Sunday Times
31 Dec 2020 – So, when WILL we learn truth about bank chiefs? Another year and still no sign of key HBOS probe by Lucy White for the Mail
24 Dec 2020 – ASIC drops investigation into Westpac, by Investor Daily in Australia
21 Dec 2020 – Financial Conduct Authority fines just ten wrongdoers this year by Patrick Hosking in the Times
19 Dec 2020 – Andrew Bailey could return to face MPs after damning report on London Capital & Finance scandal by Ben Martin & Patrick Hosking for the Times
18 Dec 2020 – Google urged to vet online financial promotions better by Huw Jones for Reuters
18 Dec 2020 – Financial Conduct Authority insiders warned of London Capital & Finance-style minibonds in 2013 but nothing was done by Jim Armitage for the Evening Standard
18 Dec 2020 – Blue Gate escapes $13.5 million Connaught fund fine from FCA by Huw Jones for Reuters
18 Dec 2020 – Executives at Financial Conduct Authority to lose bonuses over London Capital & Finance scandal by Ben Martin for the Times – Bosses at the Financial Conduct Authority will lose £205,000 in bonuses after the highly critical report on the regulator's handling of the London Capital & Finance scandal
17 Dec 2020 – The fallout from the financial regulator's shocking failure on LC&F is not over yet by Nils Pratley for the Guardian
17 Dec 2020 – FCA did not 'effectively supervise' collapsed mini-bond issuer LCF, says report by Matthew Vincent for the Financial Times  "Members of the Transparency Task Force, a lobby group pushing for regulatory reform, pointed out that in his own representations to the Gloster review, Mr Bailey included a demand "to delete references to 'responsibility' resting with specific identified/identifiable individuals".
17 Dec 2020 – Former Financial Conduct Authority boss Bailey apologises over handling of mini-bond scandal by Ben Martin for the Times
16 Dec 2020 – EU cannot be 'captured' by City of London, warns financial services chief by Sam Fleming and Jim Brunsden for the Financial Times
16 Dec 2020 – Treasurer plots ASIC shakeout by John Kehoe for Financial Review
15 Dec 2020 – How to remake Australia's lame corporate watchdog by Pamela Hanrahan for Financial Review
08 Dec 2020 – MPs call for £2.6bn Equitable Life compensation by Adam Williams for the Telegraph
03 Dec 2020 – HMRC 'treat the victims of pension scams like criminals': Taxman has benefited from the 'proceeds of crime' MPs are told by Tom Kelly for Daily Mail
25 Nov 2020 – FSCS seeks extra £92m in interim levy by Daniela Esnerova for MoneyMarketing
25 Nov 2020  – Trump Administration Targets Banks Divesting From Fossil Fuels In New Anti-Climate Rule by Sharon Kelly for DeSmogBlog
23 Nov 2020 – Bank of England policymaker warns of 'pandemic hangovers', as private sector shrinks – as it happened by Graeme Wearden for the Guardian
16 Nov 2020 – Bank of England 'failing' on climate change reform by Philip Aldrick for the Times
16 Nov 2020 – Fed moves closer to joining global peers in climate-change fight by Ann Saphir for Reuters
14 Nov 2020 – Fraudsters will exploit Covid vaccine to con vulnerable, warns National Crime Agency by Charles Hymas for Telegraph
09 Nov 2020 – Ombudsman inundated with complaints about loans by Katherine Griffiths for the Times
09 Nov 2020 – Spike in personal pension cases at ombudsman by Rachel Mortimer for FT Adviser
09 Nov 2020 – Regulator: Climate risk 'looms even larger' than pandemic by Avery Ellfeldt for ClimateWire (U.S.)

08 Nov 2020 – How financial services watchdog has reacted to UK consumer worries in Covid by Hilary Osborne for Guardian
08 Nov 2020 – Five predictions for banking regulation in a Biden presidency by Jon Hill for Law 360
05 Nov 2020 – Martin Lewis warns of 'epidemic of scams' after ICU nurse loses £8,000 by Scott Edwards for Wales Online
05 Nov 2020 –FCA bans adviser trio jailed for sex offences by Rachel Mortimer for FT Adviser
03 Nov 2020 – 'We haven't received a penny': Business interruption insurance row intensifies as owners fear payout delays, by Elizabeth Anderson for iNews
03 Nov 2020 – Aviva's shares fiasco highlights weakness of the city watchdog by Patrick Hosking for the Times
02 Nov 2020 – Banks have done little to help the country through the pandemic, so why is the government rewarding them? by Simon Youel for the Independent
24 Aug 2020 – Financial Conduct Authority rushes to minimise compensation for its failings by James Hurley for The Times
04 Aug 2020 – Have your say: Will the WPC's inquiry into the impact of pension freedoms be too overshadowed by Covid-19 impacts? by Professional Pensions
03 Aug 2020 – '"I'm 39, have lost my job and am in debt – can I unlock my £18k pension?" … DON'T do it!'' by Steve Webb for This is Money
01 Aug 2020 – 'I lost £2.3m after I was conned into transferring my pension' by Jessica Beard for the Telegraph
31 Jul 2020 'Common sense' prevails as pension freedom withdrawals fall 17% — But drop is expected to be 'a short-term blip' by Robbie Lawther for International Adviser
31 Jul 2020 – HMRC figures show plunging pension freedom withdrawals by Hope William-Smith for Professional Adviser
28 Jul 2020 – MPs launch inquiry into pension scams  by Tom Kelly for Daily Mail ;  UK Pension Scams Under Scrutiny After 2015 Relaxation in Rules by Reuters & MPs launch wide-ranging pension scams probe by Justin Cash for MoneyMarketing
24 Jul 2020 – US business groups seek steps to stamp out online fraud by Leonie Barrie for Just Style
22 Jul 2020 – Pension scams increase amid lockdown by Sophie Smith for Pensions Age & Missed Opportunity to Use Victims in Scam Work by Amy Austin for FT Adviser
21 Jul 2020  Londongrad Calling: Is Europe's Laundromat the 'New Normal'? by Mark Conrad

20 Jul 2020 Campaigners Aim to Create Pension Scam Database by Michael Klimes & Government eyes unauthorised firms by Justin Cash for MoneyMarketing
17 Jul 2020 – Year 'dominated' by FCA shortcomings as 205 complaints made,  by Rachel Mortimer for FT Adviser
29 Jun 2020 – MPs Pushed to Launch Pension Scam Inquiry by Amy Austin for FT Adviser & Lawmakers Urged To Open Inquiry Into Pension Scams by Martin Croucher for Law 360
11 Jun 2020 – Blackmore minibond investors get just £5m back by Ben Martin for the Times
14 May 2020 – Under Rising Pressure on Climate, JP Morgan Rejects Shareholders' Calls to Disclose Carbon Footprint by Alex Varley-WInter for DeSmog
11 May 2020 – FCA urged to build public trust in independent reviews by Rachel Mortimer for FT Adviser
30 Apr 2020 – FCA was warned three years ago about mini-bond firm Blackmore Bond, which collapsed with £45m of savers' money by Ben Chapman for the Independent
15 Apr 2020 – Met police lose two thirds of finance officers as fraud soars by Ben Ellery for the Times
25 Mar 2020 – Care Home Wants NatWest Docs in Misselling Fight by Law360
20 Mar 2020 – Connaught review delayed as Covid-19 concerns loom by Rachel Mortimer in FT Adviser
07 Jan 2020 – It's time to keep your pensions promise, Boris! The PM pledged to help these victims of a huge scam FOUR years ago – and they're still waiting by Tom Kelly for the Daily Mail.
29 Dec 2019 – 'Lambs to the slaughter – tens of thousands of savers have lost up to £10billion in rogue pensions schemes sanctioned by the government… and now the taxman is threatening VICTIMS with fines', and 'Making millions from other people's misery': A Government adviser, call centre chief and pension scheme director are among those who stand accused of involvement in pension schemes that exploited loophole in the law by Tom Kelly for the Daily Mail
15 Aug 2019 – Victims hit by Connaught's collapse blast City watchdog for 'whitewashing' independent review by Lucy White for Daily Mail
05 Aug 2019 – Plunder in paradise: The 'adviser' behind a Costa scam that has cost expat pensioners £25MILLION – and led one to attempt suicide by Laura Shannon for Mail on Sunday
05 Jul 2019 Government-owned bank 'forging signatures' in repossession cases by Andy Verity for BBC
18 Jun 2019 – "I came home to find my house had been stolen!" by Angela Ellis-Jones for the Daily Mail
20 Jun 2019 – FCA orders review of its handling of Connaught collapse by Rachel Mortimer for FT Adviser
13 Jun 2019 – Investigation into disgraced RBS small business unit branded a 'whitewash' by MPs by Ben Chapman for the Independent
07 Jun 2019 – Guernsey Stock Exchange disputes FCA account over Woodford by David Thorpe in FT Adviser
29 Mar 2019 – MPs call for inquiry into alleged forgery of signatures by Andy Verity for BBC
15 Feb 2017 – RBS accused of fraud & forgery by customers and ex-employee by Andrew Hosken for The World Tonight BBC Radio 4
22 Dec 2016 – Solicitors suspended for roles in collapsed Brazilian investment scheme by Nick Hilborne for Legal Futures
23 Sep 2016 – Which? makes scams super-complaint by Adam French for Which?
08 Aug 2016 – The Latest Bank Interest Rate Scandal Signals A Crisis Of Australian Democracy by Professor Carl Rhodes for New Matilda