Where are the receipts from ex-lawyers' 'ponzi scheme'?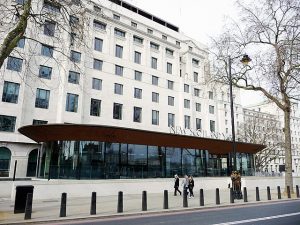 by Alex Varley-Winter, TTF's Head of Media Relations & Investigative Reporting
As 2020 neared its close, police for Interpol arrested ferrari-driving millionaire Anthony Armstrong-Emery in the United Arab Emirates. His purported Brazilian social housing scheme, EcoHouse,  cost most investors more than £20,000 each in  savings. Investors first started raising concerns around 2013.
EcoHouse was promoted by British solicitors (one of them since struck-off) and has caused losses around the world. Last autumn the Mirror's Andrew Penman picked up on the case as an example of the U.K.'s apparent inaction against fraud.
With Armstrong-Emery's arrest Interpol, acting for Brazil, has homed in on the scheme's alleged mastermind  several years on from its collapse. Might U.K. police now re-engage more openly with his beleaguered investors? The Met is yet to produce reports that they had proposed to write more than three years ago to give them leads on where their money went.
Ponzi complainants' years of suspense
On January 3rd, one of the EcoHouse victims told TTF that he has just surveyed the experiences of more than 60 others regarding the Met Police's handling of their cases. They have heard so little positive news that they feel as if 'the case investigation & prosecution has inexplicably disappeared, like a ship in the Bermuda Triangle'.
Tantalising evidence on where victims' money went has dangled just out of reach since 2017, apparently in the hands of the Met Police, with the EcoHouse creditors now beyond desperate for disclosure.
The evidence that exists sounds compelling. Investigating Met officer Richard Kirk wrote in 2017 that he had obtained 'invaluable evidence' from PwC including 'bank ledgers that give me more information than I have received previously. These show the destination of some of the funds, especially to overseas accounts.' 
Kirk also obtained "copies of all the receipts that Ecohouse held in respect of their expenditure. These will enable me to give a much more detailed report into where and when your funds were dissipated."
Yet years passed, these reports for investors have never yet been disclosed by the Met, and Richard Kirk now works for Humberside Police.
For complainants, this means that an air of mystery is now hanging around this case. News of Armstrong-Emery's arrest came to light for many of them only when the article was translated online in December. They have been left grasping for straws of hope when it comes to tracing the money they invested.
I can only imagine the emotional toll it would take, having to wait indefinitely for a paper-trail that you know exists. Hopefully 2021 will see victims being treated better. As the global pandemic has decimated financial security for so many people, scam victims are keener than ever to trace their squandered funds.
—————————-
Updated for clarity -9th Jan:
Since writing this, an EcoHouse investor got in touch asking me to clarify an important point. the Mirror's story which I linked to above, is a case of alleged double and separate victimisation.
I'll expand on this, to avoid confusion:
AIS Marine
At an EcoHouse creditors meeting, investor Anthony Tabor was reportedly approached about a different scheme run by different people, called AIS Marine, that he then also put part of his life savings into. AIS Marine later collapsed. Regarding this second scheme Tabor told the Mirror: "According to Action Fraud and the National Fraud Intelligence Bureau, a £2.4m loss to 25 investors is below their threshold … it seems far more effort would be put into a report of a stolen car."
The Mirror chose to headline on this issue of thresholds. It struck me as a burning issue. I contacted City of London Police a few days ago and asked them what the thresholds are for investigation? They said they'll come back to me. Penman's article contains an oblique response that alludes to resources: "With more than 32,000 reports of fraud made to Action Fraud every month, police forces unfortunately can't investigate them all. " And: "It is crucial reports which have viable lines of enquiry and are of significant threat to the public are actioned."
What is 'viable' and what constitutes a threat to the public? How do they decide between these cases? It was a significant allegation in terms of the losses involved,  the Mirror reported that Tabor lost his life savings to the scheme.
Justice delayed-
EcoHouse, a separate scheme to AIS Marine, was Tabor's prior investment. It incurred 850 investors losses of £21M and was referred to the Met police several years ago. On Action Fraud's basis a referral like this might amount to action. However for victims, the apparent delays on the Met's EcoHouse probe remain ridiculous, with investors held in suspense for years. A Met Police spokesman told the Mirror's Andrew Penman, that inquiries by the Economic Crime team were 'still ­continuing'.
NEW: Podcast on Pension Scams probe as Inquiry resumes
Wondering what I sound like?
I produced a succinct podcast for TTF in December on the blistering evidence being given to MPs by victims Susan Flood, Dennis Waite and others. I'd love  some feedback on this! Do you enjoy listening? I am considering running more audio content on TTF Blog on future inquiry sessions, and other TTF stories, if members like the offering. Let us know. You can contact me on alex.v.winter@transparencytaskforce.org
The inquiry resumes this week with the Pensions Regulator, FCA and the City of London Police's lead on Economic Crime giving evidence MPs, you can watch the whole session on Parliament TV.
Press Timeline of relevant articles:
04 Jan 2021 – Bank of England fails to publish officials' expenses by Alex Ralph for the Times
03 Jan 2021 – Five years on and still no answers over HBOS affair by Jill Treanor and Liam Kelly for Sunday Times
31 Dec 2020 – So, when WILL we learn truth about bank chiefs? Another year and still no sign of key HBOS probe by Lucy White for the Mail
24 Dec 2020 – ASIC drops investigation into Westpac, by Investor Daily in Australia
21 Dec 2020 – Financial Conduct Authority fines just ten wrongdoers this year by Patrick Hosking in the Times
19 Dec 2020 – Andrew Bailey could return to face MPs after damning report on London Capital & Finance scandal by Ben Martin & Patrick Hosking for the Times
18 Dec 2020 – Google urged to vet online financial promotions better by Huw Jones for Reuters
18 Dec 2020 – Financial Conduct Authority insiders warned of London Capital & Finance-style minibonds in 2013 but nothing was done by Jim Armitage for the Evening Standard
18 Dec 2020 – Blue Gate escapes $13.5 million Connaught fund fine from FCA by Huw Jones for Reuters
18 Dec 2020 – Executives at Financial Conduct Authority to lose bonuses over London Capital & Finance scandal by Ben Martin for the Times – Bosses at the Financial Conduct Authority will lose £205,000 in bonuses after the highly critical report on the regulator's handling of the London Capital & Finance scandal
17 Dec 2020 – The fallout from the financial regulator's shocking failure on LC&F is not over yet by Nils Pratley for the Guardian
17 Dec 2020 – FCA did not 'effectively supervise' collapsed mini-bond issuer LCF, says report by Matthew Vincent for the Financial Times  "Members of the Transparency Task Force, a lobby group pushing for regulatory reform, pointed out that in his own representations to the Gloster review, Mr Bailey included a demand "to delete references to 'responsibility' resting with specific identified/identifiable individuals".
17 Dec 2020 – Former Financial Conduct Authority boss Bailey apologises over handling of mini-bond scandal by Ben Martin for the Times
16 Dec 2020 – EU cannot be 'captured' by City of London, warns financial services chief by Sam Fleming and Jim Brunsden for the Financial Times
16 Dec 2020 – Treasurer plots ASIC shakeout by John Kehoe for Financial Review
15 Dec 2020 – How to remake Australia's lame corporate watchdog by Pamela Hanrahan for Financial Review
03 Dec 2020 – HMRC 'treat the victims of pension scams like criminals': Taxman has benefited from the 'proceeds of crime' MPs are told by Tom Kelly for Daily Mail
25 Nov 2020 – FSCS seeks extra £92m in interim levy by Daniela Esnerova for MoneyMarketing
25 Nov 2020  – Trump Administration Targets Banks Divesting From Fossil Fuels In New Anti-Climate Rule by Sharon Kelly for DeSmogBlog
23 Nov 2020 – Bank of England policymaker warns of 'pandemic hangovers', as private sector shrinks – as it happened by Graeme Wearden for the Guardian
16 Nov 2020 – Bank of England 'failing' on climate change reform by Philip Aldrick for the Times
16 Nov 2020 – Fed moves closer to joining global peers in climate-change fight by Ann Saphir for Reuters
14 Nov 2020 – Fraudsters will exploit Covid vaccine to con vulnerable, warns National Crime Agency by Charles Hymas for Telegraph
09 Nov 2020 – Ombudsman inundated with complaints about loans by Katherine Griffiths for the Times
09 Nov 2020 – Spike in personal pension cases at ombudsman by Rachel Mortimer for FT Adviser
09 Nov 2020 – Regulator: Climate risk 'looms even larger' than pandemic by Avery Ellfeldt for ClimateWire (U.S.)

08 Nov 2020 – How financial services watchdog has reacted to UK consumer worries in Covid by Hilary Osborne for Guardian
08 Nov 2020 – Five predictions for banking regulation in a Biden presidency by Jon Hill for Law 360
05 Nov 2020 – Martin Lewis warns of 'epidemic of scams' after ICU nurse loses £8,000 by Scott Edwards for Wales Online
05 Nov 2020 –FCA bans adviser trio jailed for sex offences by Rachel Mortimer for FT Adviser
03 Nov 2020 – 'We haven't received a penny': Business interruption insurance row intensifies as owners fear payout delays, by Elizabeth Anderson for iNews
03 Nov 2020 – Aviva's shares fiasco highlights weakness of the city watchdog by Patrick Hosking for the Times
02 Nov 2020 – Banks have done little to help the country through the pandemic, so why is the government rewarding them? by Simon Youel for the Independent
24 Aug 2020 – Financial Conduct Authority rushes to minimise compensation for its failings by James Hurley for The Times
04 Aug 2020 – Have your say: Will the WPC's inquiry into the impact of pension freedoms be too overshadowed by Covid-19 impacts? by Professional Pensions
03 Aug 2020 – '"I'm 39, have lost my job and am in debt – can I unlock my £18k pension?" … DON'T do it!'' by Steve Webb for This is Money
01 Aug 2020 – 'I lost £2.3m after I was conned into transferring my pension' by Jessica Beard for the Telegraph
31 Jul 2020 'Common sense' prevails as pension freedom withdrawals fall 17% — But drop is expected to be 'a short-term blip' by Robbie Lawther for International Adviser
31 Jul 2020 – HMRC figures show plunging pension freedom withdrawals by Hope William-Smith for Professional Adviser
28 Jul 2020 – MPs launch inquiry into pension scams  by Tom Kelly for Daily Mail ;  UK Pension Scams Under Scrutiny After 2015 Relaxation in Rules by Reuters & MPs launch wide-ranging pension scams probe by Justin Cash for MoneyMarketing
24 Jul 2020 – US business groups seek steps to stamp out online fraud by Leonie Barrie for Just Style
22 Jul 2020 – Pension scams increase amid lockdown by Sophie Smith for Pensions Age & Missed Opportunity to Use Victims in Scam Work by Amy Austin for FT Adviser
21 Jul 2020  Londongrad Calling: Is Europe's Laundromat the 'New Normal'? by Mark Conrad

20 Jul 2020 Campaigners Aim to Create Pension Scam Database by Michael Klimes & Government eyes unauthorised firms by Justin Cash for MoneyMarketing
17 Jul 2020 – Year 'dominated' by FCA shortcomings as 205 complaints made,  by Rachel Mortimer for FT Adviser
29 Jun 2020 – MPs Pushed to Launch Pension Scam Inquiry by Amy Austin for FT Adviser & Lawmakers Urged To Open Inquiry Into Pension Scams by Martin Croucher for Law 360
14 May 2020 – Under Rising Pressure on Climate, JP Morgan Rejects Shareholders' Calls to Disclose Carbon Footprint by Alex Varley-WInter for DeSmog
11 May 2020 – FCA urged to build public trust in independent reviews by Rachel Mortimer for FT Adviser
30 Apr 2020 – FCA was warned three years ago about mini-bond firm Blackmore Bond, which collapsed with £45m of savers' money by Ben Chapman for the Independent
15 Apr 2020 – Met police lose two thirds of finance officers as fraud soars by Ben Ellery for the Times
25 Mar 2020 – Care Home Wants NatWest Docs in Misselling Fight by Law360
20 Mar 2020 – Connaught review delayed as Covid-19 concerns loom by Rachel Mortimer in FT Adviser
07 Jan 2020 – It's time to keep your pensions promise, Boris! The PM pledged to help these victims of a huge scam FOUR years ago – and they're still waiting by Tom Kelly for the Daily Mail.
29 Dec 2019 – 'Lambs to the slaughter – tens of thousands of savers have lost up to £10billion in rogue pensions schemes sanctioned by the government… and now the taxman is threatening VICTIMS with fines', and 'Making millions from other people's misery': A Government adviser, call centre chief and pension scheme director are among those who stand accused of involvement in pension schemes that exploited loophole in the law by Tom Kelly for the Daily Mail
15 Aug 2019 – Victims hit by Connaught's collapse blast City watchdog for 'whitewashing' independent review by Lucy White for Daily Mail
05 Aug 2019 – Plunder in paradise: The 'adviser' behind a Costa scam that has cost expat pensioners £25MILLION – and led one to attempt suicide by Laura Shannon for Mail on Sunday
05 Jul 2019 Government-owned bank 'forging signatures' in repossession cases by Andy Verity for BBC
18 Jun 2019 – "I came home to find my house had been stolen!" by Angela Ellis-Jones for the Daily Mail
20 Jun 2019 – FCA orders review of its handling of Connaught collapse by Rachel Mortimer for FT Adviser
13 Jun 2019 – Investigation into disgraced RBS small business unit branded a 'whitewash' by MPs by Ben Chapman for the Independent
29 Mar 2019 – MPs call for inquiry into alleged forgery of signatures by Andy Verity for BBC
15 Feb 2017 – RBS accused of fraud & forgery by customers and ex-employee by Andrew Hosken for The World Tonight BBC Radio 4
22 Dec 2016 – Solicitors suspended for roles in collapsed Brazilian investment scheme by Nick Hilborne for Legal Futures
23 Sep 2016 – Which? makes scams super-complaint by Adam French for Which?
08 Aug 2016 – The Latest Bank Interest Rate Scandal Signals A Crisis Of Australian Democracy by Professor Carl Rhodes for New Matilda