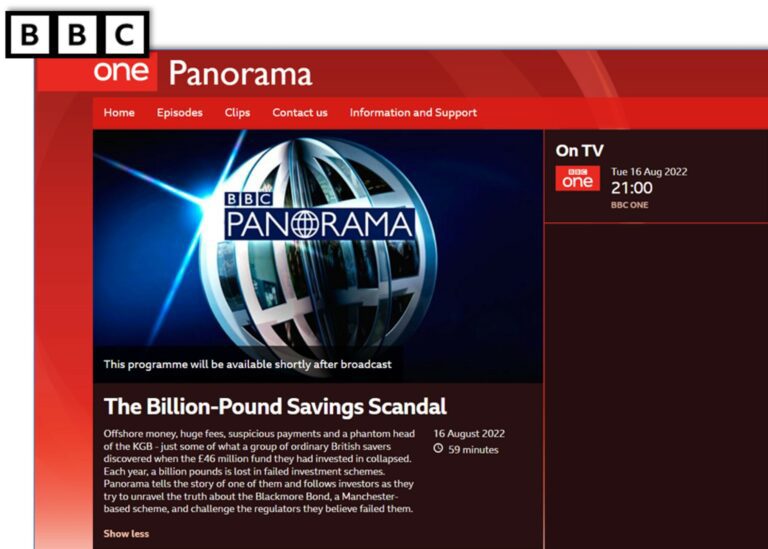 If you are looking for the webpage where you can download a letter to your MP about Panorama and the Blackmore Bond scandal and the FCA's poor handling of it, then you are in the right place.
If you haven't yet watched the Panorama programme, you can watch it using the link below:
Please follow these instructions to send your MP a letter:
If you don't already know them, please click here to go to a webpage to find your MP* and their email address. *Please note that MPs may require your full address, including postcode when sending the email. If you do not provide this, you may receive an auto response asking for the information before they agree to read it.
We have created 3 letter template options for you to choose from (they are below). Download the one that relates to your situation and copy/paste the wording into an email that you then send to your MP, making sure you follow all the instructions given.
If you have any queries, please contact TTF's Head of Events and Fundraising Alex Zitkus
The email templates* available to download:
*When you click "download here" you will be redirected to a word document online, which you can then click file>download. You can then have the document on your computer to copy/paste from and then edit the wording accordingly – making sure you follow all the instructions given:
New letter to send to your MP following our January 24th event
As explained at the event we ran Tuesday, January 24th, the Transparency Task Force is appalled at the way the Financial Conduct Authority has handled the Blackmore Bond scandal.
Our event shone a big, bright light on the difference between the false narrative that the Financial Conduct Authority has been peddling (to senior officials at HM Treasury and Parliamentarians) in an attempt to deflect attention away from its failure to regulate and enforce effectively.
Being blunt about it, had the FCA acted promptly and properly, many people's life savings would not have been stolen by the perpetrators. 
There is a huge amount of evidence that has been gathered by Paul Carlier that shows the FCA failed; and everybody should have a chance to see and understand that evidence.
In particular, given that we live in a parliamentary democracy, we believe it is of profound importance that our elected representatives get to know the truth about the Blackmore Bond scandal and thereby have a chance to compare/contrast what the FCA has been saying and what really happened.
We therefore urge as many people as possible to write to their MP.
The document below will provide you with wording that you can use in an email to send to your MP. It includes a link to the recording of our recent event about "Blackmore Bond post Panorama: What does it tell us about the FCA?".
When you send the email to your MP please be sure to copy in Alexandra Zitkus, her email address is also provided in the document that you can download.
The email template* available to download:
*When you click the button below you will be redirected to a word document, which you can then save on your computer to copy/paste from and edit the wording accordingly – making sure you follow all the instructions given