When
Wednesday, June 7th from 6pm - 8pm BST
Format
There'll be a great line-up of speakers plus ample scope for discussion and debate.
The Ulster Bank Scandal; and why it matters to all victims of banking misconduct
Did you know, that as shocking as it seems, there is a pile of evidence coming to light suggesting that SMEs in Northern Ireland and the Republic of Ireland were targeted for financial destruction by a state owned UK based bank?
Repeat: "…by a state owned UK based bank".
The evidence strongly suggests that businesses were targeted for insolvency via the Bank's Non-Core Division and HM Treasury's Asset Protection Agency, as if it were all part of a targeted, systemic financial cull, with the underlying motivation being to supercharge the Bank's profits and thereby shore up the Bank's balance sheet post the Global Financial Crisis.
At the heart of all this was a very serious fraud, and an attempt to cover up what was going on. 
That cover up has been remarkably successful, until now. 
TTF is proud to be continuing to shine a big bright light on all these issues, building on the groundbreaking revelations shown at our Thursday 27th April meeting, which can be watched here: How Irish SME's were victimised by the Banks & Regulator
To give you an initial feel for the kind of things that were going on, we urge you to watch this short video clip, a Channel 4 News clip from back in 2013, which describes what was happening in the UK. 
Also, here's an article about the issues from the Belfast Telegraph from May 2014; and here's what was discussed in the UK Parliament at its banking inquiry.
We're exposing in detail how Irish SMEs were victimised by the Banks and the Regulator, sometimes by fraudulently passing the bank's credit risk connected to Fixed Rate Loans on to them. That passing on of the bank's credit risk happened without the customer even being told. 
That constitutes financial fraud; and because of the way the banks deceptively accounted for what happened, it also constitutes an accounting fraud. 
This is clearly serious, serious stuff.
Furthermore, did you know that on 19th June 2012 customers of the RBS Group struggled to get into their bank accounts online and get accurate information from ATM Machines in a huge IT failure. The disruption affected 6.5 million customers and lasted almost 6 weeks. The problem stemmed from Ulster Bank in relation to software shared with the banking Group.
But was this IT failure a result of dated IT systems and errors by the RBS technical staff as the Bank and Financial Conduct Authority later stated, or did it actually relate to a far more sinister issue – an attempt to cover up a serious and widespread financial crime?
Attendees can come to their own conclusions about what the evidence that's going to be shared at this event shows; but it is quite likely that some, if not all will conclude the evidence shows there has been a serious, systemic and substantial accounting and regulatory fraud; a fraud that has damaged thousands of Ulster Banks SME customers and their lives; a fraud that has been covered up since at least 2012.
They say that 'sunlight is the best disinfectant'; if that's true then this event is going to shine a big bright light into some seriously infected parts of the banking and regulatory system.
Why does this all matter?
It matters because of the carnage the frauds caused – innocent, hard-working people have suffered life-changing losses; and in some cases, they have been so distraught and full of despair that they have taken their own lives.
What's happened to them just isn't fair; they have been cheated by the banks and the regulatory framework that is supposed to protect them has been a catastrophic failure; in fact the regulatory failure has been complicit in what's happened.
Justice and compensation are long overdue; it's time to fight back, because the evidence has been discovered and will be shared.
The speaker line-up includes:
Ian Fraser is a renowned journalist and author of the best-selling book: 'Shredded: Inside RBS, The Bank That Broke Britain'. Shredded was called 'Explosive' by Tom Harper at the Independent, 'The Definitive text' by Max Keiser, Martin Woolf at the Financial Times said 'Read it and weep' and Nick Wallis at the BBC said 'Shredded should be compulsory reading for every MP and financial regulator in the country'.

Ian Tyler, an independent Non-Executive Director, Senior Advisor to banks, investment firms and FinTechs; and accounting expert with experience as a Bank Treasury Executive with deep markets, treasury and prudential regulation expertise. Ian was Group Head of Capital at the NatWest Group until leaving in June 2008. He previously controlled the Group centre balance sheet and profit and loss, and managed the Hedge Accounting processes.
Steve Middleton, a consultant on Financial Regulation and Chief Adviser to the whistle-blowers support charity BankConfidential, who have exposed financial scandals such as Market Abuse by Bank Directors, compliance file rigging, undisclosed interest rate swap credit lines, training on signature forgery by bank staff and bank disclosures failures in court.
Cormac Butler is a former consultant with Lombard Risk Systems London and has also worked with Peat Marwick and PricewaterhouseCoopers. He has given evidence to the UK and Irish Parliaments on the banking crisis and company law. He has considerable international experience as a consultant in derivative accounting, Corporate Finance and Derivative Mathematics, working with major banks including Banquet BNP Paribas and has worked with IIR and Euromoney in Singapore, Hong Kong, Thailand, America and Saudi Arabia.
Why does this matter to all victims of banking misconduct?
Simple. Once you accept the harsh reality of just how egregious the conduct by the banks and the regulator has been in the case of the Ulster Bank scandal, it sets you free to think about whether their behaviour in relation to any and all the other bank misconduct cases could be just as bad. Maybe they are even more guilty than we've dared to imagine thus far.
Our first meeting about all these issues, held on 27th April, led to the development of "Operation Trident":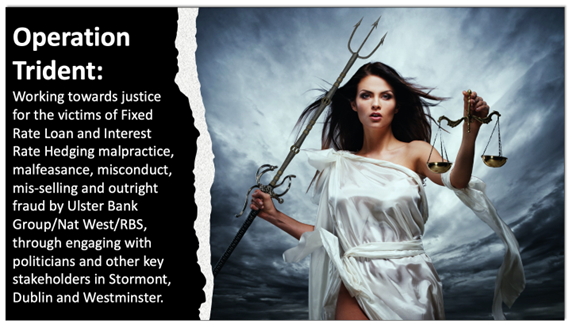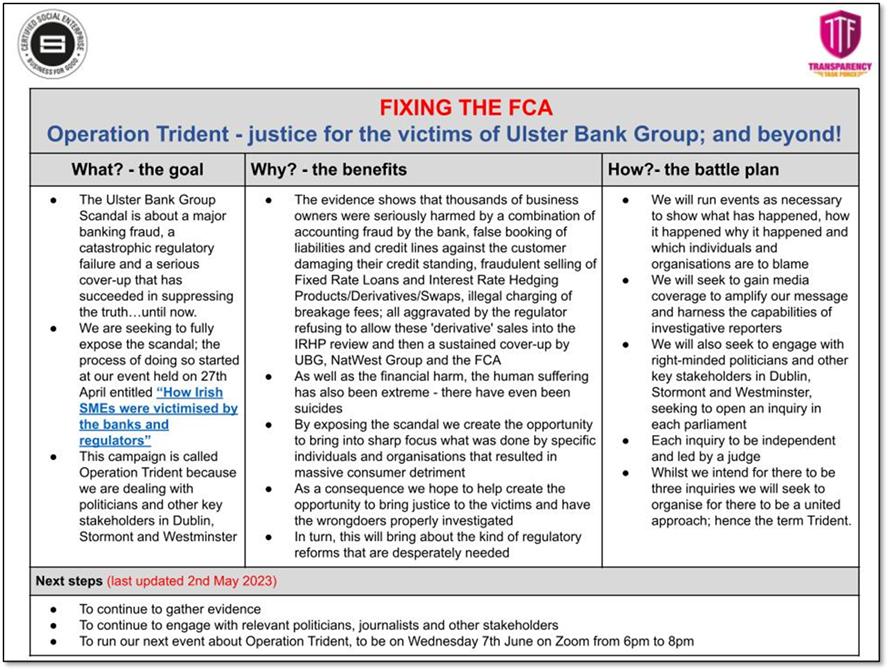 Particular focus
The speakers will be covering a range of new topics including:
Details about the the accounting for the swaps

An explanation about how the credit line can breach Loan to Value and/or ruin the company credit rating, whether the swap is broken or not

Allegations that a judge has made serious criminal acquisitions against some UK bankers, see

here

. This will affect many borrowers on variable/cost of funds mortgages including those with Ulster Bank. Watch this

video

of a remarkable meeting –  a masterclass in bank solvency/insolvency with Tim Bush and Cormac Butler.
Free, Useful and Highly Relevant Resources
Given the importance of this event and what's being exposed, we have decided to provide free access to a range of material and resources that you can access. R
We hope these resources will give valuable background and context, and help to provide a full and comprehensive understanding of the significance of this event.
VIDEOS:
ARTICLES:
DOCUMENTS:
Here's the programme so far...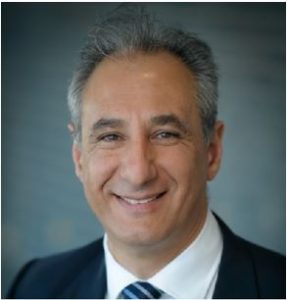 Andy Agathangelou
Founder, Transparency Task Force; Governor, Pensions Policy Institute; Chair, Secretariat Committee, APPG on Pension Scams; Chair, Secretariat Committee, APPG on Personal Banking and Fairer Financial Services; Chair of the Violation Tracker UK Advisory Board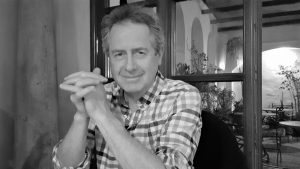 Ian Fraser
Author and Journalist