When
Tuesday, August 29th from 6pm - 7:30pm BST
Format
There'll be a great line-up of speakers plus ample scope for discussion and debate.
The first part of the event will be a teach-in by Steve Middleton and Ian Tyler on the conduct and prudential regulations that actually applied to the sale of IRHPs in 2007-2008.
This will be followed by a presentation/discussion on the misleading response letters sent by the FCA to those complaining about their treatment of the Swift Review.
Lastly, there will be a presentation using as an example the mis-selling of a collar and an interest rate swap to Angelic Interiors Limited – a private and 'sophisticated' customer of Lloyds Bank.
The issues covered in this meeting are very relevant to many victims of banking malpractice, malfeasance, misconduct, mis-selling and even outright fraud, including the thousands of victims of the Ulster Bank scandal.
There has been some outstanding recent coverage on the Ulster Bank/NatWest/RBS scandal, principally by James Hurley, Enterprise Editor at the Times, but also now being picked up in the Irish press too, see here:
Clearly, the way forward must now be an inquiry, and as described in our notes on Operation Trident below, that inquiry must be undertaken by politicians in Stormont, Dublin and Westminster.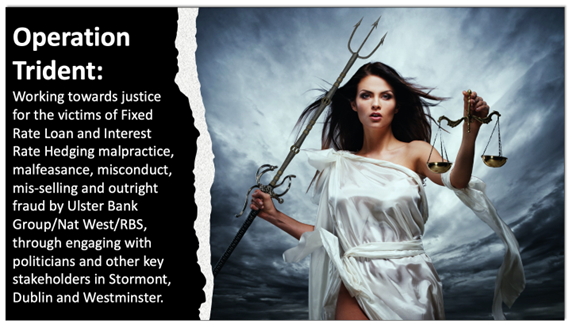 Furthermore, Nicholas Wilson has produced 3 explainer videos to help everybody understand the way the banks treated their business customers:
And if you want access to the full recordings of the TTF events from which the clips above have been taken, you have them here:
Taking everything into account about what we now know with absolute certainty, i.e. what the banks did and what the Financial Conduct Authority failed to do, everything to our mind points to one very serious question:
"Will the inevitable further collapse in trust and confidence around the lack of integrity and effectiveness at the FCA, mean that the FCA must now be abolished?"
As this is a matter of paramount public interest we have made this event free for everyone to attend.
Here's the programme so far...