When
Episode #4: Thursday, April 20th, 6pm - 7:30pm BST (see below for full details)
Format
There'll be a great line-up of speakers plus ample scope for discussion and debate.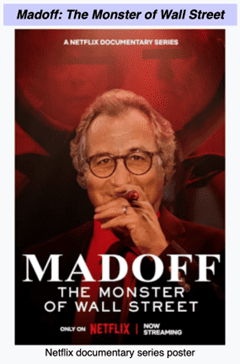 A first class, four part documentary series has been put on Netflix that does a superbly informative, engaging and entertaining job of exposing what the Madoff scandal was really all about, and who, apart from Madoff himself, was to blame.
Here's the Wikipedia description of the series:
Madoff: The Monster of Wall Street is a 2023 American true crime documentary series directed by Joe Berlinger and based in part on the 2021 book Madoff Talks by Jim Campbell. The four-part series was produced by Radical Media in association with Third Eye Motion Picture Company for the streaming service Netflix and released in its entirety on January 4, 2023. It details how Bernie Madoff rose to power and, using former employees, investigators, journalists, victims, whistleblowers, and Madoff video depositions, unpacks the world's biggest Ponzi scheme while also laying blame on the many who saw an abundance of red flags but decided to shrug them off and look the other way.
It's that last point, about the 'many who saw an abundance of red flags but decided to shrug them off and look the other way' that makes the Madoff story of enormous interest and relevance to the Transparency Task Force. The series exposes very well the catastrophic regulatory failure around Madoff; an issue many members will be able to recognise and relate to.
Wikipedia describes the issue thus:
While discussing the documentary series in an interview with journalist Hari Sreenivasan on the American global affairs television program Amanpour & Company, Berlinger stated, "[W]hat I really wanted to emphasize is the utter failure of the regulators."
After watching each episode individually on Netflix using your own Netflix account, (whilst sharing thoughts about it as we go through, using Zoom's chat facility), we'll be having  a discussion about the key matters arising that the documentary pinpoints. 
Here's the detail on how we've organised the dates of the four sessions:
Episode #1: A Liar, Not a Failure – Thursday, March 9th, 6:00PM-7:30PM GMT, on Zoom
Episode #2: Don't Ask, Don't Tell – Thursday, March 16th, 6:00PM-7:30PM GMT, Zoom
Episode #3: See No Evil – Thursday, March 30th, 6:00PM-7:30PM BST, on Zoom
Episode #4: The Price of Trust – Thursday, April 20th, 6:00PM-7:30PM BST, on Zoom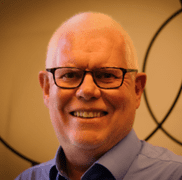 We're very pleased to announce that we will have some special guests at our Madoff events. The first we can mention is Dr Ian Hunt:
Dr Ian Hunt is a well-known authority on Buy-Side business process and technology. He is a frequent conference speaker and author of major industry publications. Ian has advised many leading asset managers and asset owners on investment processes, operations and technology.  Ian is particularly recognised for his work in promoting innovation in technology for investment, focusing on IBOR, Distributed Ledger and Digital Assets. He has acted for the last 8 years as the Investment Management expert witness in a series of Madoff-related trials, and has provided expert evidence to a range of other investment fraud cases in the UK and Ireland. Ian has a BA (Hons) in Philosophy, an MSc in Computer Science and a PhD in Mathematical Logic from University College London.